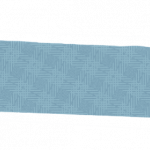 Four months in and I can feel myself slacking a bit. I missed a couple of days and "borrowed" images from a few others. I'll admit it's becoming increasingly difficult to find art in the mundane and I don't want to feel like I'm taking pictures of the same thing. I recognize I'll have days like that, where the motivation just isn't there, but it's good to push the creative side. Keeps me fresh. 😉
Here are April's Top 5, in no particular order.
1. USS Yorktown
It was hard to keep up with my 365 while on vacation. We took a family trip to Charleston over Spring Break and I think being out of the routine threw me for a bit of a loop. I got caught up in the events of each day, really wanting to just BE there and enjoy the moments. I captured a ton of "snaps" where I really wasn't entirely interested in the technical side of things and of course they weren't strong enough to warrant being used for the 365. While I do try to catch my kids naturally, in their environment and without much (if any) direction, I still want the images to be technically sound. That, of course, pitched most of my shots right out the window.
This image, though, I just adore.
Patriot's Point was amazing. I think we were most excited about visiting the USS Yorktown, USS Laffey and the USS Clamagore more than any other attraction in Charleston. I imagine that has to do with our military life, but I also LOVE history and Patriot's Point was full of it. It doesn't take much to help remind me of the scarifies our brave men and women have made over the years in order to ensure our freedom and I was overcome several times during our time there.
The most memorable experience, for me, was on the USS Laffey. You climb inside this destroyer's small turret to watch a gut-wrenching video on the day this ship was massively attacked during WWII. While operating off Okinawa on April 16, 1945, the Laffey was assailed by 22 Japanese bombers. Five kamikazes and three bombs struck her to kill 31 and wound 71 of the 336-man crew. The Laffey shot down 11 of the Japanese aircraft and saved the damaged ship. The heroic crew lovingly nicknamed her "The Ship That Would Not Die."
The heat is near oppressive, the turret rattles with echoing sound and lights flash throughout the movie. I'm teary-eyed within moments but I turn to glance at M., my oldest son. He is resting his head on Dad's shoulder, his eyes are bulging with tears and a small sigh escapes him. I realize, in that instant, that M. is finally starting to comprehend the sacrifice our Military makes on a daily basis. He is a military kid, an Army Brat, whom until that experience hadn't been able to fathom the realities of keeping our country safe. I am instantly heartbroken for him because part of his sweet innocence is gone, but proud that he can now say The Pledge of Allegiance and sing the Army Song with more heartfelt understanding of what those words truly mean.
I love this because the ship is so awesome in its sheer massiveness. And there, hand in hand, are my three boys. Seeming small and insignificant in relationship to the aircraft carrier, they are my life. My reason for being, my reason for waking every morning. Surrounded by glorious American flags, it is almost a grand reflection of our military life. My honorable, loving, kind hearted husband, who has deployed five times in his 14 year career to defend this great nation, walking away from me towards "Uncle Sam." Almost poetic, I suppose.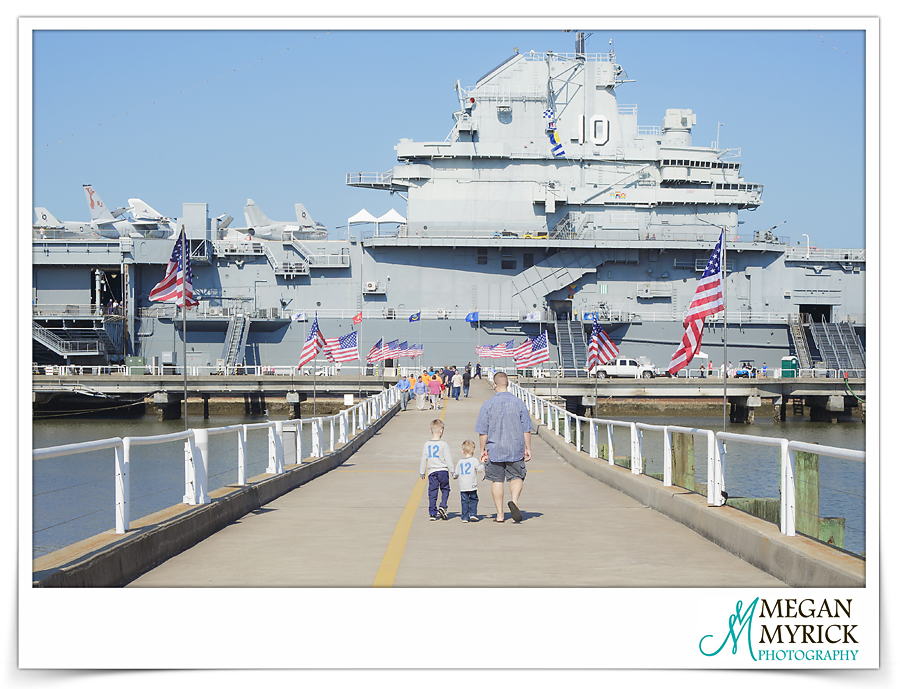 2. Silly
This image of M. just makes my heart smile. He is so much like his father; quiet, thoughtful, laid-back. People often characterize him as the "serious" one of my two children and that is definitely accurate. But M. is also insanely funny, whimsical and light-hearted. I am giddy when I capture moments like this. I adore him.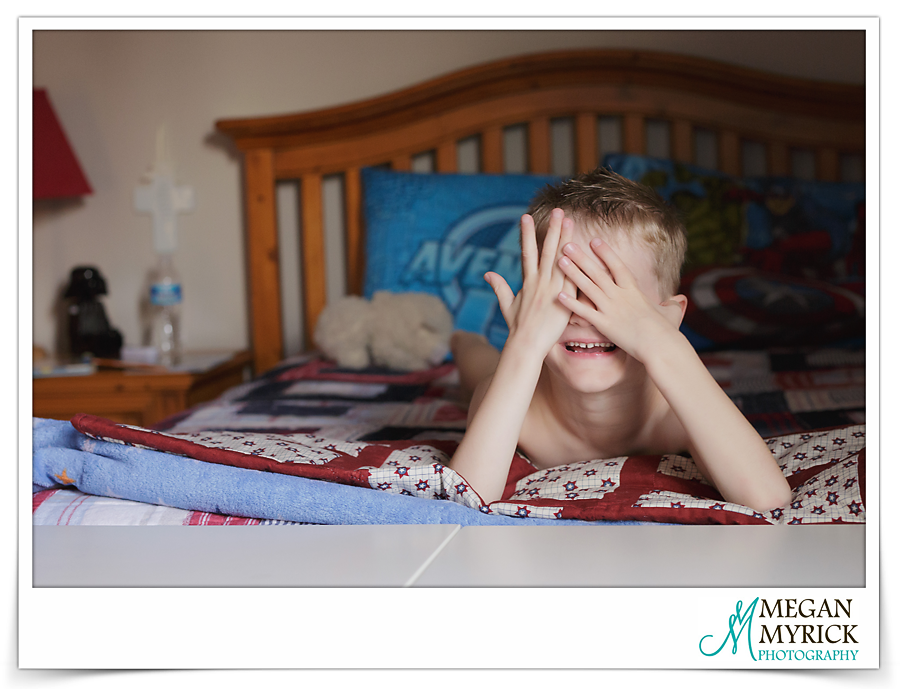 3. Golden
Ahhh, isn't evening light just glorious? So yellow and warm, soft and airy. This image made it to the Top 5 for several reasons, light definitely being one of them. I also love the innocence of this shot, C. in just a shirt and underwear (a very common occurrence around here), lightly gripping Birdie and Raffy, the two companions he loves beyond compare. His gentle pose reminds me of his tender age, so young and full of curiosity, yet still needing the safety of home.
4. After the Storm
And here it is, the other side of M. The serious, quiet side. My old soul. I love that he is wet from the bath, but you can see a handful of raindrops on the window, like he may have just returned from an afternoon of puddle jumping. I think M. has the most gorgeous resting face, his eyes are so deep and full of emotion. Always a sucker for a good black and white, this image was an easy choice.
5. Peeking
Yup, this is totally my C. Once again, shirt, socks and underwear, climbing all over the place, checking things out. He is outgoing, boisterous, full of energy. Despite all the "bright" and "flashy" things about his personality, I love the softness and tenderness of this image. I lust after creamy, airy light like this. It just makes my heart sing.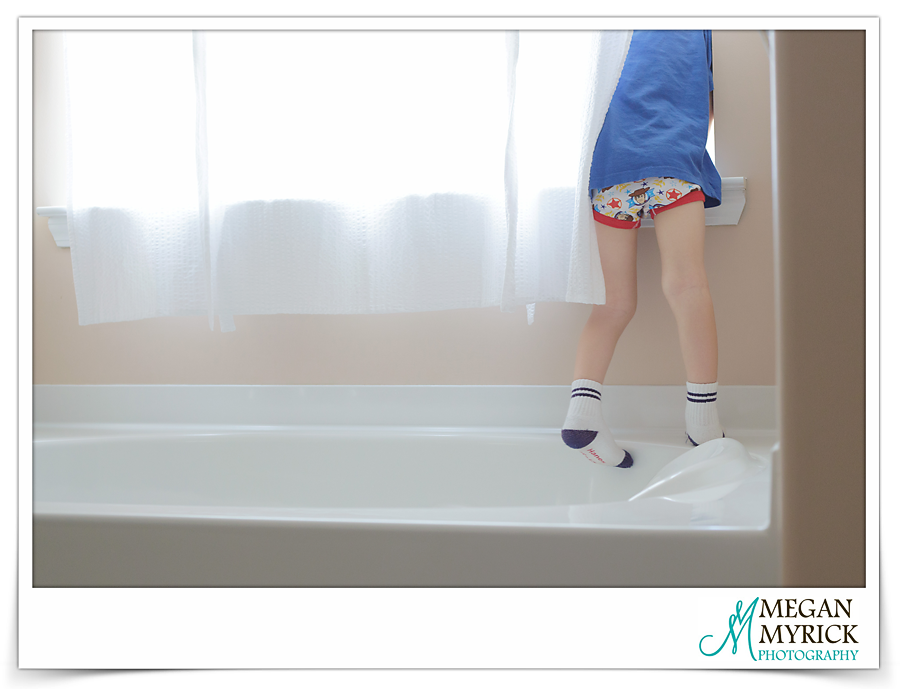 Thanks to all of you have been so supportive of my 365 journey. I appreciate all of the "likes" on my images and the messages of joy and encouragement. It means the world to me.