The very first thing I noticed was her hair. How could you not? Her gorgeous, rich, thick black hair. At only a handful of days old, it was amazing to see. Such a beautiful baby – porcelain skin, healthy chubby cheeks, 10 perfect fingers and toes. And that hair.
Derick works with my husband on Fort Stewart, but this was my first time meeting him and his lovely wife, Heather. The neat thing about photographing hubby's coworkers is that even if we haven't met we immediately have something to talk about, something in common. It's only more true when you get some Army wives together. Trust me, conversation is never lacking.
Derick is a tall man and his eyes are kind and gentle. Heather is quite petite and has a fun, upbeat personality. Once Derick's portion was finished during the shoot, he quickly left to finish up "stuff for work" but I'm pretty sure he spent the remainder of the time shooting the breeze with my husband. 😉
That certainly didn't bother Heather or me … she has a soft and genial way about her, and we easily chatted over sweet baby K.
Derick and Heather, so happy and in love.
See what I mean about Baby K.'s hair? I swoon a lot during sessions … this was no exception.
Her serene little profile. This is always one of my favorite images.
K. was literally like putty in my hands. It isn't so often you are gifted with a baby like that.
I always have a pre-session consultation with my clients before their session. We discuss possible themes, feel and colors. Obviously it can be a bit of a guessing game when it comes to what colors will look good on baby, but Heather knocked it out of the park. Purple is so lovely on Baby K.
Not only is her hair divine, but would you look at those cheeks? Sweet perfection.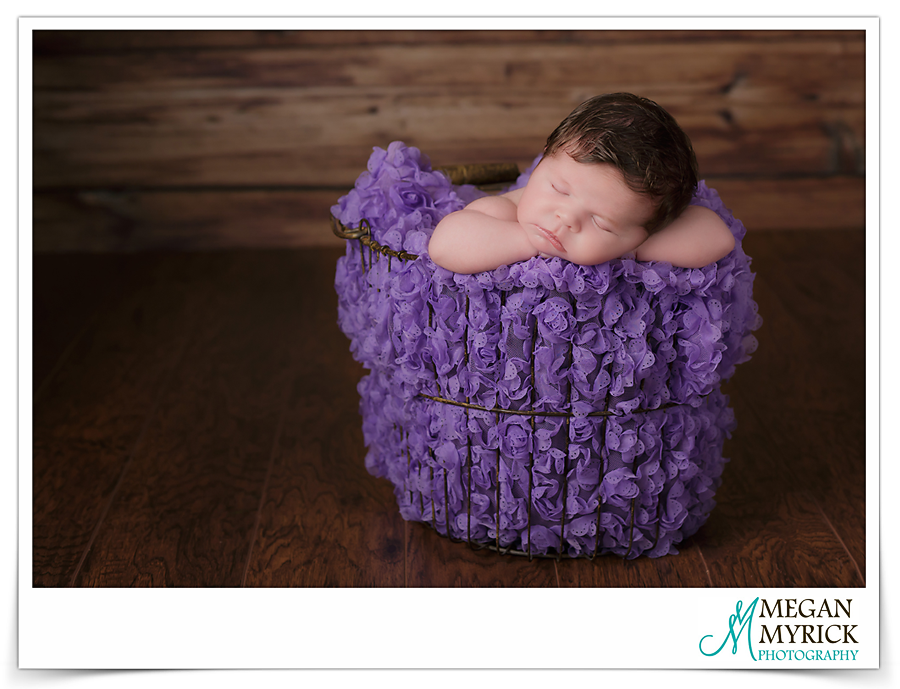 This image just makes me giggle. I think Baby K. has decided that life's pretty good after all. 🙂
Derick and Heather, I was just blown away to discover that you've never had newborn portraits done of any of your kiddos. You have no idea how amazing it felt to provide this service for you. Thank you for bringing me precious Baby K. I had such a wonderful time during her session. It's hard to believe she's 3 months old already. I look forward to watching her grow.

Megan Myrick Photography specializes in newborn, maternity, baby, child and family photography in Savannah, GA and surrounding areas including but not limited to Richmond Hill and Pooler.