I'm kind of obsessed with packing lunches for my boys. I know, I know, it's only the 2nd week of school and if you ask me again in about 6 months how I feel about packing lunches I'm sure I'll be singing a different tune. But, until then, I'm going to rock packing my loves some truly bodacious (is that even a word anymore? or did I just date myself?) lunches. And since I can't get enough lunchbox ideas from Pinterest I figured there might be a few others who feel the same way – thought I'd throw myself into the mix.
Now, here comes the HUGE caveat!
Yes, I'm a professional photographer. However, I photograph PEOPLE not FOOD. I haven't mastered the pack-all-the-lunches-a-week-before skill, so I am packing and photographing these masterpieces at about 0630 in the morning y'all. It's dark. And we're kind of rushing. So, I'm snapping somewhat technically correct images of food in crappy overhead lighting while my children are rushing around looking for matching socks (just kidding. every single piece of clothing is folded neatly in their drawers. ok, no, it really isn't. but we try).
SO, please don't judge me by these images. I'm not dragging my studio lights down to my house to take smashing photos at 0630 each morning. 🙂
Day One
We had tacos the night before so I prepped deconstructed tacos/nachos for them. Taco meat, tortillas chips, cheese, tomatoes, and olives. My youngest has a side of sour cream. And I suffered a huge mom fail during the second week! While I did manage to place a little love note inside their lunch boxes, I totally did not pack either boy a DRINK! They do take water bottles to school each day, but neither brought it to the cafeteria thinking, surely, mom wouldn't forget a milk or juice! Yeah, I totally did. Miffed it so early in the year! 🙁 Sigh. Y'all, none of us is immune!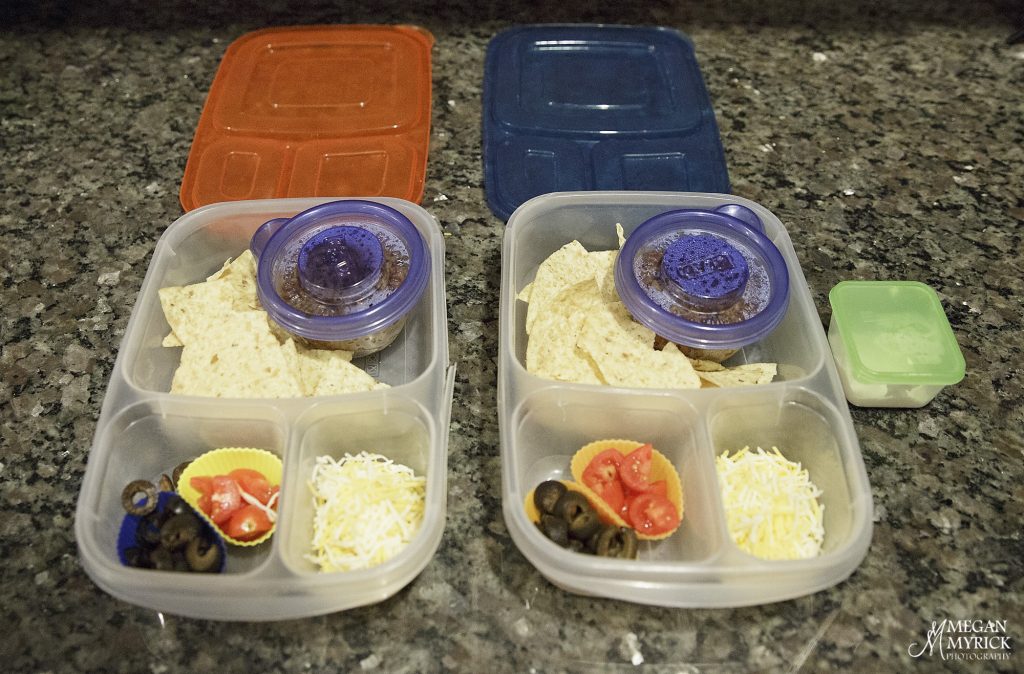 Day Two
Our kind neighbors brought us dinner the night before (rotisserie chicken, salad, bread, and cherry pie) so I packed the boys leftover chicken with bread and organic butter, mixed berries, cheese stick and a Red Velvet Oreo (oh my – have you tried them? Dangerously delicious!) My oldest opted for juice instead of milk.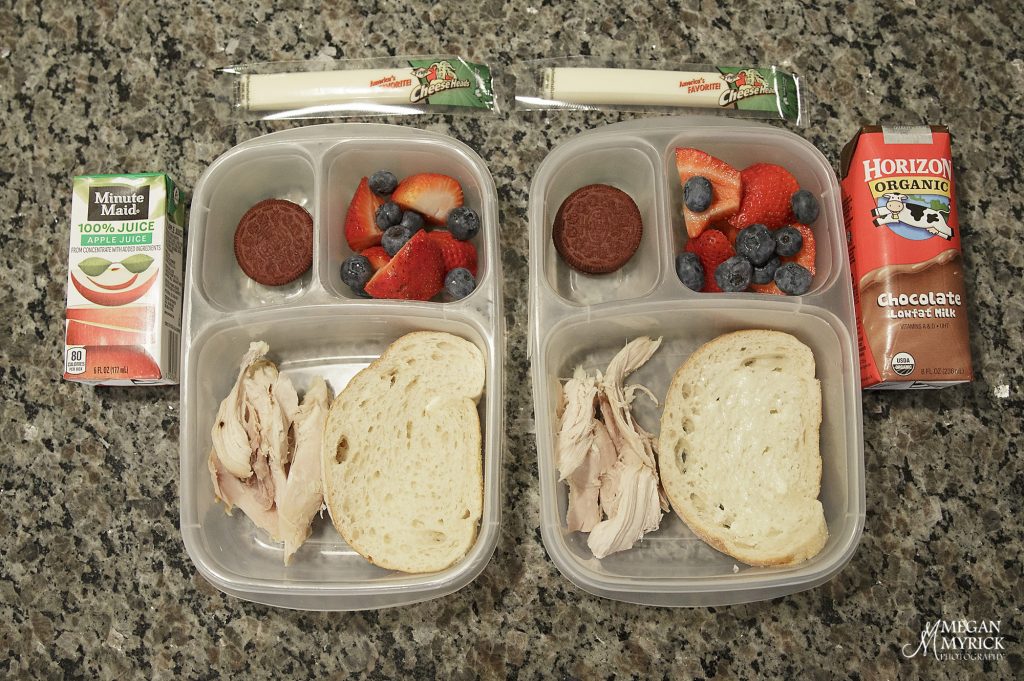 Day Three
Leftover egg salad with lettuce, mixed fruit, cheese stick, chips and organic chocolate milk. We drink strictly white organic milk at home, so I like to "treat" the boys with chocolate milk at school.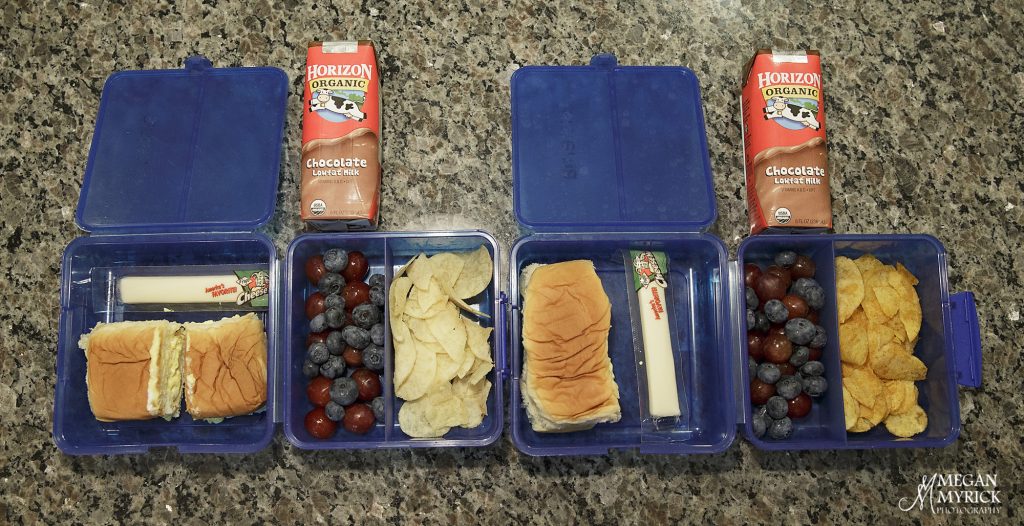 Day Four
Today was a touch on the sugary side, but we had brinner (breakfast for dinner) the night before and I wanted to utilize the extra cinnamon rolls. No panicking please, these are the mini rolls! Low sugar strawberry yogurt, summer sausage, organic hardboiled egg for my oldest and my youngest had an apple with peanut butter. My youngest also had granola for his yogurt (in the green lidded container). A little brunch at school! 🙂
Day Five
Whew! Made it through the 2nd week! Leftover chicken pasta salad (mayo, vinegar, pasta, chicken, tomatoes, cucumber, green pepper, onion), biscuit with organic butter, mixed fruit. I used up the rest of the rotisserie chicken to add to the pasta salad – it's a huge family favorite. I like to make it a day before and chill. The flavors are always better after chilling for 12+ hours!
Lunches were fairly successful this week. My youngest didn't quite understand the deconstructed taco/nacho idea:
Him: Mom! You forgot my tortillas for the taco!
Me: Honey, you were supposed to dump your meat on the tortillas chips, add the toppings.
Him: Oh, yeah! I forgot!
Thankfully, everyone in my family likes leftovers so I am able to use them quite a lot which helps cut down on food waste and prep time in the mornings. What did you serve your littles this week? I'm always open to suggestions!