You may have been told (or even heard through the grapevine) that MMP was/is moving. And we are! Thankfully we are no longer relocating out of state, just down the street! MMP is pleased to announce our new studio location! Located in Richmond Hill Court, this 1,000 square foot store front will soon be open to serve the most wonderful clients in Richmond Hill and the surrounding area. I am incredibly excited to be near such amazing local, established businesses such as Laurel Home Furnishings, My Grandfather's Place, and the Leahy Art Gallery, to name a few.
And of course, come the questions. 🙂
Let's just say that God's plan isn't always neat or pretty, that sometimes you have to suffer through some rough days filled with frustration and tears. You have to hope, during those times, that you have wonderful people to love and support you. Those that are quick to forgive, extend their empathetic hearts (maybe more than once), and continue to have renewed faith in the story that has yet to be told.
Even if you struggle to write that first paragraph.
How lucky my family is to have some of those people in our lives.
To my clients, YAY!!!! I am over the moon excited to be able to continue to serve you! To watch your beautiful family grow, welcome new life into the world, to capture every toothy grin, each holiday smile. You are, without a doubt, the only reason my business continues to grow.
From the bottom of my heart, thank you.
Be on the lookout for grand re-opening information.
Here's to 2016!!
(Pardon the cruddy cell phone picture, but too excited not to share it.)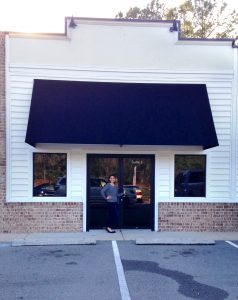 P.S. Wondering what's happening to my old studio? Super excited to share that another photographer will be moving in! Fleahman Photography specializes in high school senior portraits and boudoir photography. Check Tori out, you'll love her!