"You will never understand life until it grows inside of you."
-Sandra C. Cassis
To me, pregnant mamas are some of the most beautiful women in the world, and pregnancy is a wonderful life event that should be captured. Pregnancy is a time you are going to want to remember and share with your little one once they are older. If you are thinking about or have recently booked a maternity session, then the following tips should come in handy as you prepare for your session.
Schedule your session between 31 and 36 weeks as your tummy will have "popped" and have a beautiful shape. By booking your maternity session during this time you are also past the discomfort and bloating that happens earlier in  pregnancy.
We know how important it is to moisturize those knees, elbows and belly (especially while pregnant),  but we recommend you do so 1 – 2 hours before the session to avoid any shiny skin or sticky clothes. You should also avoid wearing any tight fitting watches or bracelets that might leave marks on your skin. For portraits, minimal jewelry is always best anyway.
Treat yourself to a neutral or light colored manicure (and pedicure) 1 – 2 days prior to your maternity session so that you can take some beautiful shots with your hands on your tummy. A neutral nail color also offers more flexibility in clothing and wardrobe choice, besides being timeless and classic.
If you already have some cute baby items such as shoes, hats, toys, blankets or a copy of an ultrasound picture, bring them along as they make for adorable, personalized props. The same applies to family heirlooms. If you have a special locket or photo that you would like to use, bring it along too.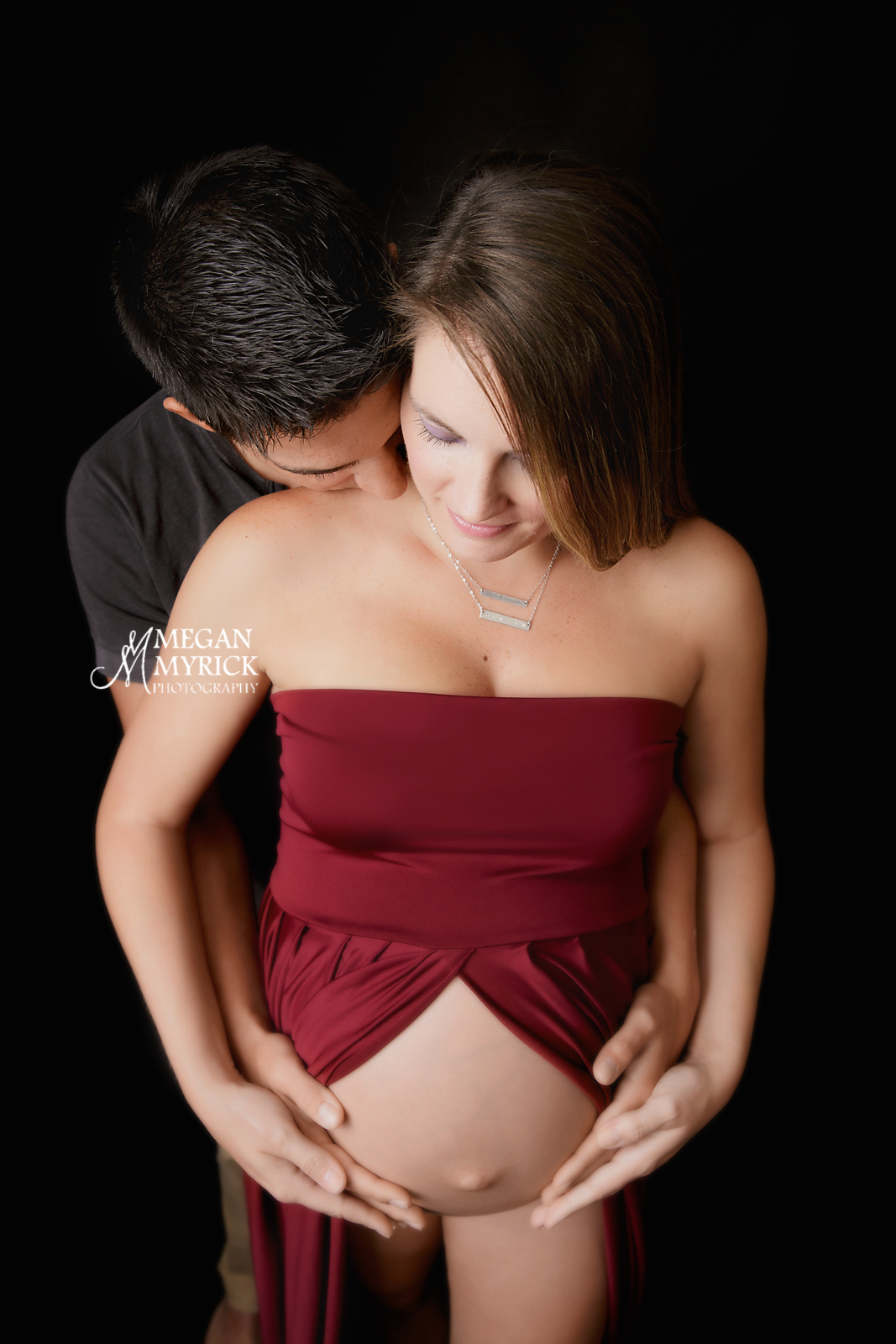 Take the time to pick the right outfits for the maternity shoot. You should of course be comfortable but make sure that your clothing doesn't detract from your tummy's shape and your natural glow. Avoid large, bold patterns or clothing that is too loose. Empire waists, drawstrings, flowing tops, cardigans, scarves, lingerie, and wrap dresses are perfect for enhancing your shape.
Or, if you'd rather, choose items from MMP's extensive curated wardrobe closet. Pieces include tops, skirts, and flowy dresses. A maternity dress fitting is included with your session.
Be sure to think about your undergarments as well. It's smart to bring white, nude, and black underwear to your session, especially if you haven't finalized your wardrobe. A well-fitting strapless bra is a must! Strapless bras eliminate unsightly bra straps and bra strap indentations while still allowing for proper support.
MMP offers two types of maternity sessions. Our Simple & Sweet session is a half hour session either in the studio or on location and includes access to our curated wardrobe.
Our Pampered Maternity session includes a full hour session either in the studio or on location, access to our curated wardrobe, professional hair and makeup artistry, and a complimentary 30 minute prenatal massage at Joberson's Day Spa in Richmond Hill. It is the perfect session to feel refreshed and gorgeous!
Learn more about our maternity sessions here.
Enjoy this special time in your child's life! We'd love to help you capture it!